At the celebration of the 30th anniversary of CT Group's establishment in 2022, the Group surprised many by the reveals that it is thriving in technological fields such as Artificial Intelligence (AI) and semiconductor, green digital currency, carbon credits, Unmanned Aerial Vehicles (UAV), genetics and cell technology, renewable energy, quantum computing, and so more. For a long time, CT Group has remained relatively low-key, and few were aware of the numerous projects and developments across various sectors that the conglomerate has been actively pursuing.
*So, it turns out that during the challenging economic times, especially in real estate, CT Group remained "lowkey" to focus on researching and developing new business areas? 
Historically, CT Group has been a "low-profile, high-achievement" entity, bringing together passionate intellectuals dedicated to their professions. In June 2022, CT Group concluded its 30-year plan Phase I and announced its Phase II plan (2022-2052), encompassing various new technological sectors. Prior to this, the conglomerate had invested resources for many years in researching these new technologies before unveiling the Phase II plan. CT Group continues to maintain a selective focus on three sustainable traditional sectors that the Group has been involved in for many years: urban development; infrastructure encompassing the environment, transportation, logistics, construction; and the third sector being food and healthcare.
These six technology sectors have rapidly matured, with products commencing commercialization in 2023 and global expansion in 2024, involving companies such as: CT Optimal with Artificial Intelligence technology (France), AI Master (Vietnam); Realcoin Global (Dubai) specializing in green digital currency; CT UAV with Unmanned Aerial Vehicle technology; VGCT with Genetics & Cell technology; New Energy technology with several companies; and Quantum technology with Anam Quantum. Additionally, CT Semiconductor, based in Ho Chi Minh City, specializing in semiconductors, has completed the construction of a factory in Song Than, Binh Duong.
*How does CT Group believe in such a rapid shift? 
Since its establishment in 1992, our strategy has always been to choose diversification rather than specialization. In reality, both diversified and specialized investment models have their own opportunities and risks. Each sector has its cyclical ups and downs. Therefore, in a specialized approach, when the cycle of that sector declines or policies change, difficulties may arise if the business lacks a robust risk management strategy for market or policy cycle risks.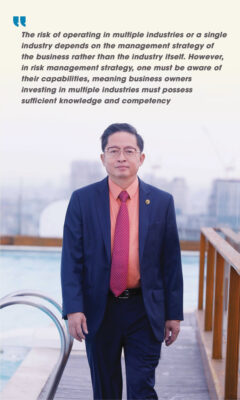 Therefore, in a specialized approach, when the cycle of that sector declines or policies change, difficulties may arise if the business lacks a robust risk management strategy for market or policy cycle risks.Therefore, businesses must have a sound risk management strategy, not relying solely on single or multiple industries. The enterprise needs to understand its capabilities thoroughly. Leaders, when investing in multiple industries, must possess knowledge and sufficient capacity in each sector, ensuring that these sectors synergize within a unified ecosystem. Synergy is the core strength of a diversified structure. For leaders of single-industry businesses, they must have enough depth to surpass other competitors.
In the technology industry, CT Group's distinctiveness lies in its approach of ascending from research and embracing cross-industry synergy, akin to a university rather than a typical company. We don't engage in technology transfer or acquire technologies from other companies; instead, we've established a Technology Research Institute long ago. Similarly, in the transportation infrastructure, CT Group has been involved in and researched the TOD (Transit-Oriented Development) model for a significant period.
Embracing Industry 4.0 is a necessity. It is a trend that businesses must consider a "Must do" rather than a "Nice to do" if they want to thrive in a new world.
 *Back to CT Group… 
As mentioned, since its inception, CT Group's strategy has been to choose diversification rather than focusing on a single industry. From 1992 to the present, Vietnam's economy has undergone three crises, and thanks to the diversified model and strategy, CT Group has successfully navigated through these crises.
Business requires agility, and what sets us apart is our approach of ascending from research rather than engaging in the transfer or acquisition of technologies. Specifically, we've established a technology research company in Israel for a long time. In the field of transportation, CT Group has been involved in and researched projects, such as a section of the Second Ring Road in Ho Chi Minh City. Although the project was halted due to changes in legal regulations, it illustrates our strategic focus on infrastructure. In essence, our strategy involves continuous research and development, ensuring that we are not simply reacting to trends or emerging needs but proactively engaging in sectors that we have identified for sustained growth.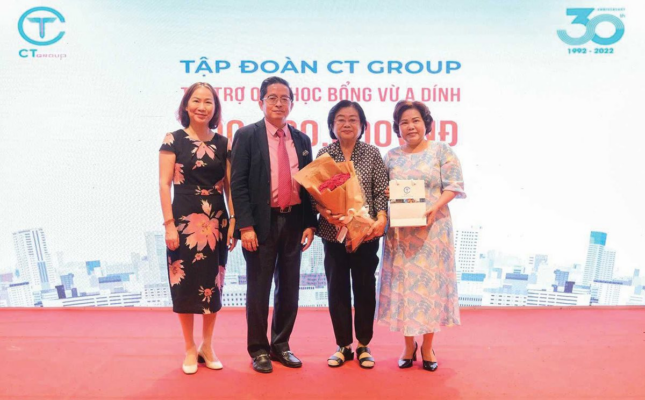 *Through each crisis, despite successfully overcoming difficulties, it must have provided you with numerous lessons and experiences, hasn't it? 
Certainly, through each difficulty, each crisis, it made us sweat and shed many tears, but it also allowed us to grow and mature. Our model has proven to be correct. Each model has its uniqueness. For example, the diversified model we implemented in 1992 is different from the diversified model we implemented around 2007-2008.
*Be more specific please…
For example, in the diversified model of 1992, we engaged in various industries such as rice export and processing plants. However, by 2007-2009, I had to close down some industries as I noticed some were entering a period of decline. This means closing down before it goes into decline, avoiding losses as much as possible. When the company was at the peak of the cosmetics industry, holding a 50% market share in high-end cosmetics in Korea, I redirected our focus when I saw too many businesses entering the market and it becoming too crowded, limiting revenue. This is risk management, and importantly, always preparing for the future. For instance, if we stick to the old ways without preparing for modern technologies like AI (Artificial Intelligence), in a decade or so, we will fall behind. Therefore, the key in a diversified or single-industry model is having the right strategy and vision, where risk management will determine if the business is sustainable and can avoid risks and losses.
*Recently, the high-speed railway project connecting Ho Chi Minh City to the Mekong Delta is also part of the project that CT Group desires to invest in. Why and what grounds does CT Group have to confidently believe that the investment will be successful?
This is a very challenging project, and many Prime Ministers (including those before the liberation) have wanted to undertake this project but haven't been able to. The reasons include numerous difficulties, high costs, and low potential for capital recovery. However, if evaluated comprehensively, this is a project that brings significant economic and social value, as well as infrastructure improvement, leading to breakthroughs and a transformation – a new face for the Mekong Delta.
*A new face", isn't that a bit too much? 
Dr. Trần Du Lịch has also stated in a seminar that the high-speed railway line from Saigon to Can Tho will help transform the southwestern region, with the establishment of 12 railway urban areas along the route. Each railway urban area will include scientific and technical facilities, logistics, commercial services, and modern smart cities, with the train station as the central hub. Each train station will be uniquely designed to represent the identity of each province. People in the Mekong Delta will be able to commute to work in Saigon and return on the same day.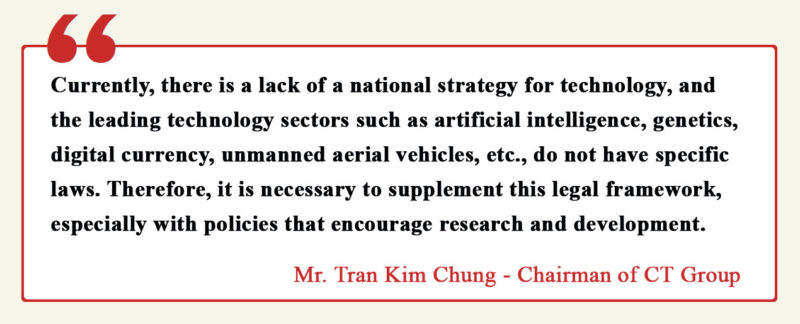 *That is the reason why you want to implement the project? However, how will you overcome the many difficulties that have prevented the project from being realized until now?
Over the past two years, we have researched the project thoroughly, and the strategic partners of the Group have made careful preparations.
When the Group presented the project to the World Bank (WB), they stated: "In this case, we have reviewed it extensively, but if you can successfully develop a comprehensive plan integrating transportation with industrial zones and commercial areas around that transportation axis, only then will the project be successful." The specific details of the project will be reported and proposed to the Government and the Ministry of Transport.
*In the current context where many businesses are still facing significant challenges and are focused on solving survival problems, how can one participate in the 4.0 technology revolution when all six new technology sectors require substantial costs, human resources, and are generally difficult to implement? 
Vietnam has many examples of poor students who excel and achieve top honors, bringing prestige to the country when they go abroad to work. Similarly, businesses operate on the same principle. Learning is never too late, especially with the abundance of free learning tools and resources available today. The key is to cultivate a culture of learning within the business. Regardless of difficulties, continuous learning is essential.
*If we are going to be late and fail in this revolution, what do you think will happen? 
I always assert that this is a unique opportunity and there won't be a second chance. Unlike the three previous revolutions, the Fourth Industrial Revolution will permanently change humanity. Any nation, any country, any business that overlooks this opportunity will find it very difficult to recover and will become completely dependent.
In Vietnam, currently, technology sectors such as artificial intelligence, genetics, blockchain, unmanned aerial vehicles, and more, require the supplementation of laws and the implementation of high incentives for businesses to invest in developing these technological fields.
*Specifically, what are some policy proposals according to you? 
For now, we need to establish a Guarantee Fund for technology businesses by allocating a certain percentage of GDP to create the fund for innovative enterprises to borrow capital for technology development. If a business succeeds, it will contribute back to the fund to compensate for the startup technology businesses that come after it. And when successful, the interest rate for borrowing will be higher. If any business fails, it will also have a guarantee fund for its debt. If we continue to be bureaucratic and insist on having a "red book" for everything, it will strangle innovative technology projects.
*CT Group has just launched the ASEAN Carbon Credit Trading Joint Stock Company, becoming the first company in Vietnam to initiate such a platform. This is a very new market, and many businesses are not fully aware of its value and are uncertain about the practical aspects. What challenges is the CEO currently facing, and what are his recommendations? 
In the world, there are not many specialized units for Carbon Credits at the moment. Because if you do it to make a profit, it's quite difficult because only large businesses can be effective, and small businesses investing will incur a lot of costs with little efficiency. To undertake a Carbon project requires a significant amount of funding and involves six stages, from project planning, project registration, auditing and validation, to certification before entering the trading phase. If the scale is small, the costs may not be justified.
In fact, since the Covid-19 pandemic, I have attended the COP 26 conference in the UK, and now I've been to COP 28. Currently, CT Group's strategy involves implementing 12 projects related to carbon neutrality and carbon credits, with carbon credits being just one of the projects that positively impact society. If purely considering revenue, it may not be effective at this moment because most businesses rely on free consultations.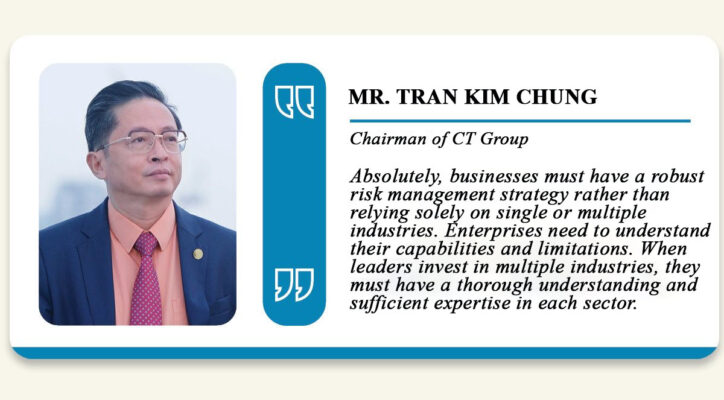 In fact, since the Covid-19 pandemic, I have attended the COP 26 conference in the UK, and now I've been to COP 28. Currently, CT Group's strategy involves implementing 12 projects related to carbon neutrality and carbon credits, with carbon credits being just one of the projects that positively impact society. If purely considering revenue, it may not be effective at this moment because most businesses rely on free consultations.
In foreign countries, they charge consulting fees per hour, but it's only enough to pay for the expertise. However, in Vietnam, consulting is still mostly free. Currently, many businesses are seeking advice from CT Group, and in some cases, it's overwhelming, indicating that this is becoming a mandatory concern for businesses.
*Resolution 41, recently issued, emphasizes the role of entrepreneurs not only in business but also in building a global brand. In this context, the entrepreneurial and corporate culture must be worthy. What are your thoughts on this? 
Building an international brand is a prerequisite for businesses in any country entering the global market. The crucial aspect is that countries need a promotion strategy to build their national brand through supporting both national and enterprise brand-building activities transparently and scientifically, with a long-term vision. I believe that many countries, such as South Korea, Japan, Singapore, the United States, have achieved considerable success in this regard. It's not too late for us, and there is still a long journey ahead, where brands with a high cultural content, along with exemplary entrepreneurs, can pave the way for sustainability.